J&J By Design
Mennonite Built Custom Kitchens, Closets, Furniture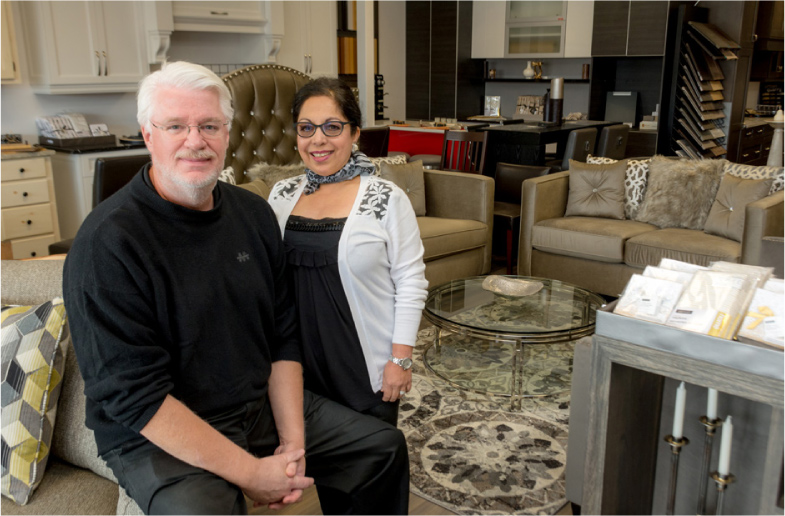 For more than 30 years, Chris MacKeigan and Hershey Vijan MacKeigan have been combining their strong backgrounds in Residential and Commercial Millwork along with Kitchen and Interior design, to offer their customers beautiful products that are built to stand the test of time.
Formerly known as J&J Wood Products, J&J By Design has become renowned for their custom Mennonite-Built Kitchens, Closets and Furniture. "The quality and overall value are impressive," says MacKeigan. "There's just nothing like it in the market."
Accommodating varying budgets and styles, J&J By Design allows clients to visualize the finished project and make all modifications necessary with state-of-the-art technology that provides very detailed three-dimensional images of their projects.
Specializing in custom designs, J&J By Design makes their clients ideas, hopes and dreams a reality. If a homeowner wants a dining table set, centre island, or bar chairs to complement their new kitchen, they make it happen.
While the couple is celebrated for their quality-made custom kitchens, they're just as recognized for their unique and well-designed closets.
With the MacKeigan's skills, organizing your home has never been easier. "One client was so happy when she saw her closet that she became teary eyed," says Vijan-MacKeigan. And this was just one of many satisfied customers, which speaks to the dedication and talent of the team.
It's no surprise that the majority of J&J By Design's customers come to them through referrals. There are endless recommendations from people who know firsthand just how talented and dedicated the team at J&J By Design is. They work personally with each and every customer to ensure their completed living spaces reflect their lifestyle and tastes.
"We built one client's kitchen and through their referrals, seven more kitchen clients came to us," says MacKeigan. "Many clients have become friends over the years."
"This doesn't feel like work," adds Vijan-MacKeigan. "It's a pleasure to work on all their projects. When we see the big smile on our client's face, that says it all."
Overseeing the manufacturing of all projects and working with highly skilled Mennonite Craftsmen, J&J By Design takes great care to ensure that every customer is 100 per cent satisfied with the work. "We are committed to offering our clients products made to the highest standards, with the highest-quality materials possible," says MacKeigan.
A True One-Stop-Home Improvement Shop
In 2016, J&J By Design opened its Designer Showroom on Gardiners Rd. It provides customers with a unique variety of styles and price points for home improvement products and furnishings in a convenient and beautiful one-stop-shop setting.
Customers are invited to drop by and browse through J&J By Design's extensive collection of catalogues, samples and displays that showcase a wide range of products to enhance any home. Whether they're looking for quality backsplashes, flooring and tile, countertops, superior home furnishings or interior/kitchen design services, the MacKeigan's — who take great pride in the fact that the majority of their products offered in-store are Canadian-made — have it.
Notable Projects
J&J By Design's work is visible throughout the Limestone City and surrounding area, including The Burr Wing at Kingston General Hospital (where they collaborated with local architects to provide all the commercial millwork),  Fort Frontenac Library and throughout the Four Points by Sheraton Hotel to name but a few. They were also commissioned to create the interior furnishings – kitchens, vanities, fireplace mantles, etc. — at the Wolfe Springs Golf and Waterfront Resort in Westport.